The Battle for Community Radio – two hour broadcast on WBAI and WPFW, Dec. 8, 2020 co-hosted by Mimi Rosenberg and John Riley, featuring Mumia Abu-Jamal and guests from around Pacifica's stations. Listen here or download!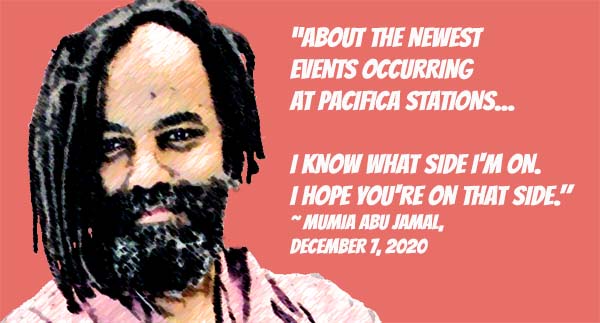 http://www.berkeleydailyplanet.com/issue/2020-03-13/article/48250
Public Comment
Virginia Browning Sunday March 15, 2020 – 02:39:00 PM
KPFA members are being asked to vote on a complete overhaul of the Pacifica Network (KPFA Radio) bylaws. I'm urging a "no" vote. — by Virginia Browning.
http://www.berkeleydailyplanet.com/issue/2020-03-13/article/48249
Public Comment
by Dr. James McFadden, KPFA LSB, Sunday March 15, 2020 – 02:33:00 PM
Let me begin by saying that I am new to the Pacifica Radio Network struggles. I decided to get involved because I could see NPR (National Propaganda Radio) shifting to the Right with its corporate sponsors and I did not want Pacifica or KPFA to follow suit.
From Guns & Butter newsletter:
Watch for an email ballot on Tuesday, February 18th, from the Pacifica Foundation. This referendum is asking for a vote to amend Pacifica's by-laws to essentially end democratic governance and give majority control of the Pacifica National Board to appointed people with no oversight. Guns and Butter is urging membership to vote NO on this bylaws referendum. Some of the proponents behind these bylaws changes have urged bankruptcy and have been in favor of shutting down and selling WBAI or WPFW. There are several excellent websites with more detailed information. Please visit Save Our Stations posted by activists and board members at KPFK in Los Angeles; and 31 Things About the New Bylaws Proposal at pacificainexile.org.
KPFA in Berkeley has not paid property taxes for seven years and had not filed non-profit status forms for that length of time either. Without non-profit status KPFA is on the hook for back property taxes at $53,000 per year! As a result, Pacifica's Berkeley real estate is scheduled for public auction in March. However, once this situation was publicly revealed by the investigative work of a local media activist, the Pacifica National Board got involved and it looks like the National Board will be able to protect Pacifica's property. We certainly hope so.
Guns and Butter is broadcast weekly at 9:00 AM Eastern on Wednesdays on Pacifica's WBAI in New York City at wbai.org; and at 3:00 PM Eastern on Fridays on the Progressive Radio Network at prn.fm. We are also carried by many Pacifica affiliates nationwide and abroad, and archived at gunsandbutter.org. Guns and Butter is available via RSS Feed, Sound Cloud and by many different podcast apps. You can follow Guns and Butter on Twitter at: @gandbradio. All Guns and Butter newsletters can be accessed at the drop down menu "About" by clicking on "FAQs".
New piece in LA Progressive: https://www.laprogressive.com/hostile-takeover-of-pacifica-radio/
UPDATE IN CHANGE LINKS
AS VOTING DEADLINE APPROACHES:
Update report in Change Links community calendar and progressive news in Southern California: http://change-links.org/pacifica-bylaws-vote-deadline-march-19/
Biased LA Times report by Michael Hiltzik
The following story appeared recently in the L.A. Times, slanted towards the views of those pushing the bylaws revision, like Ian Masters, without even mentioning the upcoming vote, and without giving the countervailing arguments:
https://www.latimes.com/business/story/2020-02-07/crisis-at-pacifica-kpfk
Here is one response that was sent to the LA Times:
To the Editor:
Michael Hiltzik's piece reflects one point of view about Pacifica, voiced by Ian Masters and Bill Crosier and reflected in Hiltzik's own formulation of the problem, focusing on the elected governance. He neglects to mention the role management and some paid staffers (like Masters) have played in the decline in listeners and thus in financial support for the original listener-sponsored radio stations.
Among the financial problems that go unmentioned are the threat posed to KPFA's building and studios in Berkeley because management failed to pay property taxes or file for property tax reductions for more than 6 years, resulting in a tax liability of nearly half a million dollars and now the threat of a tax default auction by the Alameda County assessor's office. KPFA has been run by the faction backing Crosier and his plan to eliminate elected governance, end the local station boards and their oversight of management, programming and the budget, and create a new board able to modify the bylaws that govern Pacifica at will.
Crosier's plan also increases the requirements and cost of membership, and lowers the threshold for selling off assets of the Foundation (which many suspect is in store for WBAI, despite the denials by Crosier ally and former interim executive director Vernile, who shut down the NY station in the middle of a fund drive, told the landlord to look for another tenant, and started piping in content from KPFA and KPFK, including Masters). When a court and the national board reversed this unauthorized move, Crosier and a group from Berkeley got a different court in Alameda County to issue an order preventing the seating of recently elected directors and setting up a vote by members on Crosier's bylaws "restatement".
The source of Pacifica's problems, however, is that its programming, particularly here in L.A., has lost touch with the grassroots community solutions that are being developed by a new generation struggling for democracy, peace and justice. Thus its membership is aging out and not being replaced. The "professionals" Masters and Crosier et al are touting have presided over a decade plus of declining listenership, and their "solution" is more of the same, further alienating Pacifica from its natural base. Your readers, and Hiltzik, may wish to consult pacificafightback.org and other websites and spokespeople around KPFK and Pacifica who are trying to keep the station, the mission and the commitment to democratic, engaged media alive. Like the Times itself, for instance, KPFK recognizes the importance of the Spanish-speaking audience, and is the only Spanish language progressive broadcast outlet in the southland, something else that Hiltzik's piece failed to acknowledge.
–Michael Novick, KPFK Local Station Board member
A much better story on what's happening appeared in Berkeley:
Will the KPFA Building Be Up For Auction?
http://www.berkeleydailyplanet.com/issue/2020-02-07/article/48168?headline=SMITHEREENS-Reflections-on-Bits-Pieces–Gar-Smith
Columns
Gar Smith
Saturday February 08, 2020
Will the KPFA Building Be Up For Auction?

It is both ironic and tragic that an historic, anti-war media institution like the Pacifica Foundation should find itself repeatedly engaged in a war for survival. And, once again, Berkeley's own KPFA finds itself at ground zero on the media battlescape.

Dedicated KPFA members will soon be asked to respond to a ballot that would fundamentally alter the station's operational bylaws. Members of a listener group called Rescue KPFA are warning that the new bylaw changes will be "anti-democratic and dangerous"—the work of a "rogue KPFA management" seeking to overturn Pacifica founder Lew Hill's vision of an independent, anti-war, community based operation. According to the RKPFA partisans, the new rules threaten to turn "KPFA into NPR."

Rescue KPFA believes the current face-off involves an "engineered financial meltdown" brought about through "deliberate fiscal mismanagement" to set the stage for "an imminent auction of the Berkeley building."

Adding to the growing concern: a violent seizure of the WBAI studio in New York during a successful fund drive and "repeated failure to submit timely audits, causing a loss of Corporation for Public Broadcasting grants." A statement from Rescue KPFA references "secret KPFA Foundation incorporation papers in 2013" intended to "enable a bankruptcy judge to order the WBAI license and other station assets to be sold for tens of millions of dollars, allowing KPFA to use the proceeds to pay down debts and operate KPFA under new anti-democratic bylaws."

"This is exactly what we successfully defeated in 1999," Rescue KPFA notes. "Are we moving backwards?"

The reference is to a long factional battle between Pacific Foundation officials and local KPFA staff that culminated in a July 1, 1999 police siege of the KPFA building and the physical removal of station staff—including Flashpoints host Dennis Bernstein—while hundreds of station supporters gathered outside and blocked traffic from Martin Luther King Jr. Way. (In April of that year, KPFA broadcast icon Larry Bensky also was fired for daring to discuss the struggle on the air.)
The Pacifica Foundation's violent take-over of the station followed the accidental release of an internal email from a Houston real estate broker who served on the Foundation's board. In the email, Michael Palmer wrote: "I was under the impression there was support in the proper quarters, and a definite majority, for shutting down that unit and reprogramming immediately." Palmer was among a faction of Pacifica boardmembers who was considering (in his words) "the possibility of selling one of the stations to put the national network in a better financial position."
According to Rescue KPFA, all five of Pacifica's Local Station Boards have overwhelmingly voted NO on the substitute by-laws.
What Is at Issue?
The concern is that the new bylaws would:
Enable a self-selected board to accept corporate or major donor contributions, instead of listener support
Eliminate community-elected Local Station Boards and oversight
Eliminate staff representatives on the Pacifica National Board
Disenfranchise more than 200 affiliate stations.
Disaffected staff and listeners are also concerned that Pacifica's anti-war mission is "under threat by continually airing the fake opposition politics practiced by mainstream media and both major parties."
The Rescue KPFA activists charge that management "has canceled popular programs without explanation: Guns and Butter, Twit Wit Radio, Discreet Music, Work Week." Instead, it chose to fill precious air-time with repetitive "gavel to gavel coverage of what every other media outlet is covering."
The closing sentence of the appeal reads: "Vote NO on the substitute bylaws and prevent the NPR model of corporate control so KPFA can once again become the leading voice in opposition to endless wars."
Meanwhile, the situation is growing dire. Because the station's management has failed to pay $486,000 in property taxes on the Berkeley studio for the last six years, the Alameda County Tax Collector's office has announced its intention to seize the property for public auction.
For more information, you can click on RescuePacifica.net. Media Alliance executive director Tracy Rosenberg also recommends checking out the Pacific Radio in Exile webpage.
A public press conference is planned at noon on February 12 at the KPFA studio (1929 MLKJ Way)
Coverage in the LA Progressive
SOME BACKSTORY: Berkeley's KPFA is a Private Radio Club
by Doug Buckwald
Wednesday May 22, 2019 – 04:37:00 PM
https://www.berkeleydailyplanet.com/issue/2019-05-19/article/47621
The program hosts at KPFA (94.1 FM) in Berkeley are in the midst of another fundraising drive. They aren't doing well; they are still hundreds of thousands of dollars short of their goal with only a few days left. So, their calls for donations are becoming more strident.
If you are considering giving a donation to KPFA, you should be aware of how far the station falls short of its self-promoting rhetoric.
KPFA used to operate like a true community radio station, but now it has devolved into little more than a private radio club for the same handful of paid program hosts who have occupied the airwaves for decades. Kris Welch, for example, has been a programmer and host at KPFA for the past 45 years. Philip Maldari, host of Sunday Show, has also been working at the station for over 40 years. To put this in perspective, the average time in office for a dictator of an autocratic country is 15.2 years. And, the average tenure of a US Supreme Court Justice is currently 16 years — and they are appointed for life. It appears that, for all practical purposes, the program hosts at KPFA are appointed for life, too.
Why does this matter? It matters because community organizations are not supposed to be run like dictatorships or oligarchies with the same few people wielding absolute power. In order to truly reflect the interests of the community, these organizations need to welcome and include a significant number of members of the community who have the desire to participate in meaningful ways, including taking on key roles. This is certainly not the case at KPFA. Instead, KPFA is run by a small group of insiders who make all of the most important decisions at the station. Long-time listeners will recognize that there has been only a minimal turnover in the program hosts who occupy most of the high-listenership time slots on the air.
Each individual human has a unique background with a particular a set of experiences that guides his or her current attitudes and views. Should one or two individuals be allowed to present their unique perspectives on a community radio station for 40 years or longer? Is there really any KPFA listener who cannot anticipate how Kris Welch or Philip Maldari will react to a certain event or issue? Isn't it time for some different perspectives from the community to be heard?
Every weekday morning, Brian Edwards-Tiekert occupies two hours of KPFA's key drive-time broadcasting from 7 am to 9 am, along with co-host Cat Brooks. These two appear to represent the latest dynasty of program hosts at KPFA, likely to continue in their roles for decades. They exhibit the same perspective that the other long-time hosts have held. This is not surprising, because they are supported by the same insiders who have dominated the station for decades.
In order to mask the reality of this ossification, KPFA has adopted an aggressive public relations campaign to retain community support. KPFA's program hosts repeat, like a mantra, that KPFA is "listener-sponsored, independent, free-speech, community radio". Sadly, it turns out that only one of these four things is true. KPFA is certainly listener-sponsored – which means that they view you not as a person but principally as a bank account to supply funds for their own benefit.
Indeed, fundraising is the primary way in which KPFA interacts with the community now. KPFA no longer has any interest in the community's views on program hosts, program content, reliability of news sources, scheduling, expanding listener call-ins, explaining management decisions, budget transparency, on-air bias, or a multitude of other issues. They mainly just want your money. Once they get it, the doors are again slammed shut on community interaction, and the KPFA insiders decide which issues — from the narrow ideological range that they will allow — will be presented on the air.
Longtime listeners have noticed that the size of KPFA's donation requests has increased dramatically. Some years ago, the standard request was $35. Now, it is more likely to be $100, $250, $300, $500, or even $2,000. This skews towards a demographic that is high-income and more well-off, one that is more in line with the donor base for National Public Radio (NPR). There is little doubt that this fundraising strategy affects KPFA's decisions on programming and coverage of issues.
Unfortunately, there is a very limited range of opinion that is allowed on the air, and most of it echoes the viewpoint of the corporate Democratic Party. It has been this way for at least the past 15 years. In particular, progressives and independents who hold views that are further left than those of the official Democratic Party are largely excluded from KPFA's airwaves. This curtails a presentation of the full political debate that the community deserves.
KPFA has a mission statement, but I've never heard any program host read it on the air.
Here is one of its key tenets:
"To promote freedom of the press and serve as a forum for various viewpoints."
It's not really fair for KPFA to expect financial support from the community if it does not even follow its own rules.
Listeners who have concerns about KPFA's restricted range of viewpoints — as well as its lack of community involvement, lack of accountability, and lack of transparency — should share their thoughts with Quincy McCoy, KPFA's general manager.
Isn't it time to put the community back into our community radio station?
Quincy McCoy may be reached at: gm@kpfa.org or by phone at (510) 848-6767, ext 203