We Insist on Freedom
HANDS OFF UHURU!
DEFEND THE TAMPA 5!
Come to our June 17 virtual National Town Hall! Meet other listeners from your station. Help build an anti-racist network committed to peace, justice and the democratic rights of our diverse communities–especially those that are under attack!
IMPORTANT:
JOIN YOUR LOCAL STATION TODAY!
Deadline to be a Candidate OR a Voter for your Local Station Board (LSB) is JUNE 30. Details below.
PACIFICA FIGHTBACK NATIONAL TOWN HALL SATURDAY JUNE 17, 3pm Pacific/5 Central 6 Eastern
Register in advance for free Zoom:
https://us02web.zoom.us/meeting/register/tZIqduGorTkpGNDjOyZGhG_MlkLJZe0i5mnC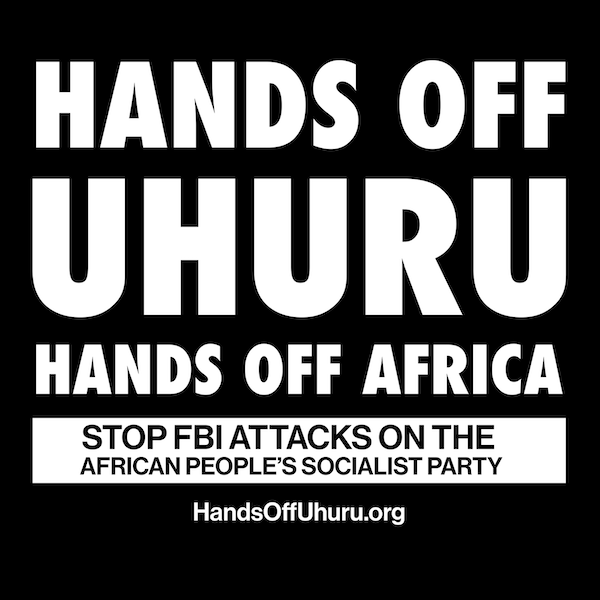 SPEAKERS:
MWEZI ODOM Hands Off Uhuru!
CHRISLEY CARPIO The Tampa 5
CHRIS SILVERA Secretary Treasurer, IBT/Teamsters Local 808 NYC
🎤COMMUNITY RADIO RISING!
EDDIE MAULTSBY Black Power 96 Station Manager WBPU St. Petersburg FL, Uhuru House
JESSE COLEMAN WSLR-Sarasota FL Station Manager
ZIRI RIDEAUX KPFK Rebel Alliance News, Los Angeles, CA
🌿PACIFICA REPORTS Listeners & staff from Pacifica stations, and WMNF-Tampa, FL
🎤Q&A and Actions! YOU Panel discussions will be followed by Q&A and comments
Register in advance for free June 17 Zoom: https://us02web.zoom.us/meeting/register/tZIqduGorTkpGNDjOyZGhG_MlkLJZe0i5mnC WHY WE NEED THE PACIFICA RADIO NETWORK
Mainstream and even some "alternative" media are broadcasting US anti-communist, neocolonialist propaganda about the war in Ukraine. This has helped set the stage for the violent, racist attack on the African People's Socialist Party and the Uhuru Movement, who are accused of being Russian agents because they oppose the war. Meanwhile, Students for a Democratic Society in Florida were assaulted by campus cops for demanding more Black enrollment and resisting racist, sexist attacks on education. But our communities–and organized labor–are fighting back—and Pacifica is our voice!
HOW TO KEEP PACIFICA STRONG & OPEN TO ALL OF US
By defending our democratic bylaws and worker rights
Pacifica members rejected the 2021 "New Day Pacifica" undemocratic bylaws proposals. After they lost that referendum, "New Day Pacifica" argued the workers' votes shouldn't matter. A Court recently rejected that notion and upheld the listener and staff classes of membership as defined in the Pacifica bylaws.
By mobilizing our communities to tackle Pacifica's financial crisis!
The entire country is in a financial crisis. Unfortunately, it is being used as an excuse by reactionaries to rid community radio of progressive voices. But Pacifica's unique mission is to serve the "voiceless!" Now more than ever, Pacifica must GET BACK IN THE STREETS with LIVE radio created BY and FOR the working class and our diverse communities—who are fighting back but are ignored by corporate-controlled media! They know this! We have to spread the word: "We have a voice on Pacifica radio!"
There ARE community radio stations that are growing—Meet them at our Town Hall!
BE A PART OF DEMOCRACY IN PACIFICA
Democratically elected boards and fair elections give our communities a chance to control our own, truly alternative media. Ordinary people can serve on our boards.
WHAT FAIR, CLEAN ELECTIONS LOOK LIKE
– They follow the election rules set out in the bylaws
– Low income candidates have an equal opportunity to campaign alongside rich individuals and groups
– All candidates get equal, adequate access to airtime
– Election materials comply with the ADA and are accessible to all
Register in advance for June 17 Zoom:https://us02web.zoom.us/meeting/register/tZIqduGorTkpGNDjOyZGhG_MlkLJZe0i5mnC
JOIN YOUR LOCAL STATION TODAY!
KPFA Berkeley, CA
KPFK Los Angeles, CA
KPFT Houston, TX
WBAI New York, NY
WPFW Washington, DC
TO RUN or VOTE FOR YOUR LOCAL BOARD:
IMPORTANT DEADLINE: JUNE 30, 2023
Official Pacifica Elections 2023 portal: https://www.elections.pacifica.org
You must be a member of your local station* by June 30 to RUN or VOTE!
Your total minimum donation of $25 or 3 hours supervised volunteer time must fall BETWEEN July 1, 2022 AND June 30, 2023. *Donations made at pacifica.org do not count toward membership in a station.
If donating money, payment must be made by June 30, not just promised. If in doubt, give again via the station's website or pledge line.
Using "snail mail" to send a check or M.O.? It must be POSTMARKED on or before June 30!
Volunteer work must be acknowledged by management. Work on LSB committees also counts.
Waiver of membership fees: The bylaws allow for hardship waivers, available on a case-by-case basis, for listeners who have a sincere interest in membership, but have neither time to volunteer nor money to contribute. If you want to apply, contact your Local Station Board and cc the National Elections Supervisor (nes@pacifica.org).
Email us at pacificafightback@gmail.com to get our low-volume announcements emails via lists.riseup.net

Register in advance for free June 17 Zoom: https://us02web.zoom.us/meeting/register/tZIqduGorTkpGNDjOyZGhG_MlkLJZe0i5mnC
Disclaimer
This event, this website, and this message are not affiliated with, or sponsored by, the Pacifica Foundation or any of its five stations (KPFA, KPFK,KPFT, WBAI, WPFW) or affiliates. All labor is donated.
CONSIDER RUNNING FOR DELEGATE
Consider running as a candidate for Listener or Staff Delegate of your station, or nominate or support candidates committed to the Pacifica mission-driven, democratic, transparent, and accountable platform. Contact us for more information now at: pacificafightback@gmail.com