The current timetable for a referendum of Pacifica members on New Day Pacifica's anti-democratic Bylaws replacement sets a "date of record" for membership of April 7. 2021. This means it is imperative, to be able to vote on the future of Pacifica, that you make sure you are a member in good standing in the next few weeks.
If, as a listener, you made a contribution of $25 or 3 hours management-authorized volunteer work, or Local Station Board (LSB) committee work in the 12 months before the record date – that is, BETWEEN April 8, 2020 AND April 7, 2021 – you are member in good standing and can cast a ballot in the vote on the replacement bylaws.
If you haven't made such a contribution of money or time, the easiest way to assure your ability to vote is to make a new donation of $25, which will also qualify you to vote in the upcoming Local Station Board elections.
Come to a national virtual Pacifica membership rally on Saturday, March 27, 2021. It starts at 12:00 noon Pacific Daylight Time (that's 2:00 PM Central, 3:00 PM Eastern). It will feature Mumia Abu-Jamal, along with some of your favorite hosts and broadcasters like Mimi Rosenberg of Building Bridges, and other performers, public figures and poets, all of whom value Pacifica's uncensored platform for community oriented free speech and diverse cultural expression. You can join or renew right then and there!
Register in advance for this meeting:
https://us02web.zoom.us/meeting/register/tZUocuuhrDMtHtN6RsI6CABGv1enBUlI_xGQ
After registering, you will receive a confirmation email containing information about joining the meeting.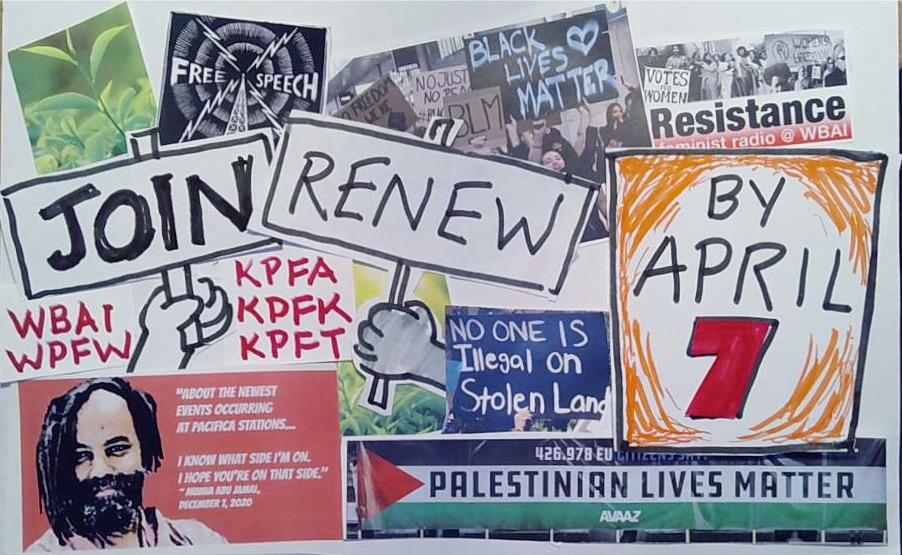 You can donate to your station on-line, or call the station switchboard and ask to speak to the membership department to subscribe.
WBAI: Call (516) 620-3602 https://www.wbai.org/oneclick.html
WPFW: Call (202) 588-0999 https://pledge.wpfwfm.org/index.php
KPFT: Call (713) 526-5738 Click to donate
KPFK: Call (818) 985-2711 https://kpfk.wedid.it/campaigns/8668
KPFA: (510) 848-6767 https://secure.kpfa.org/support/